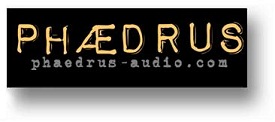 ---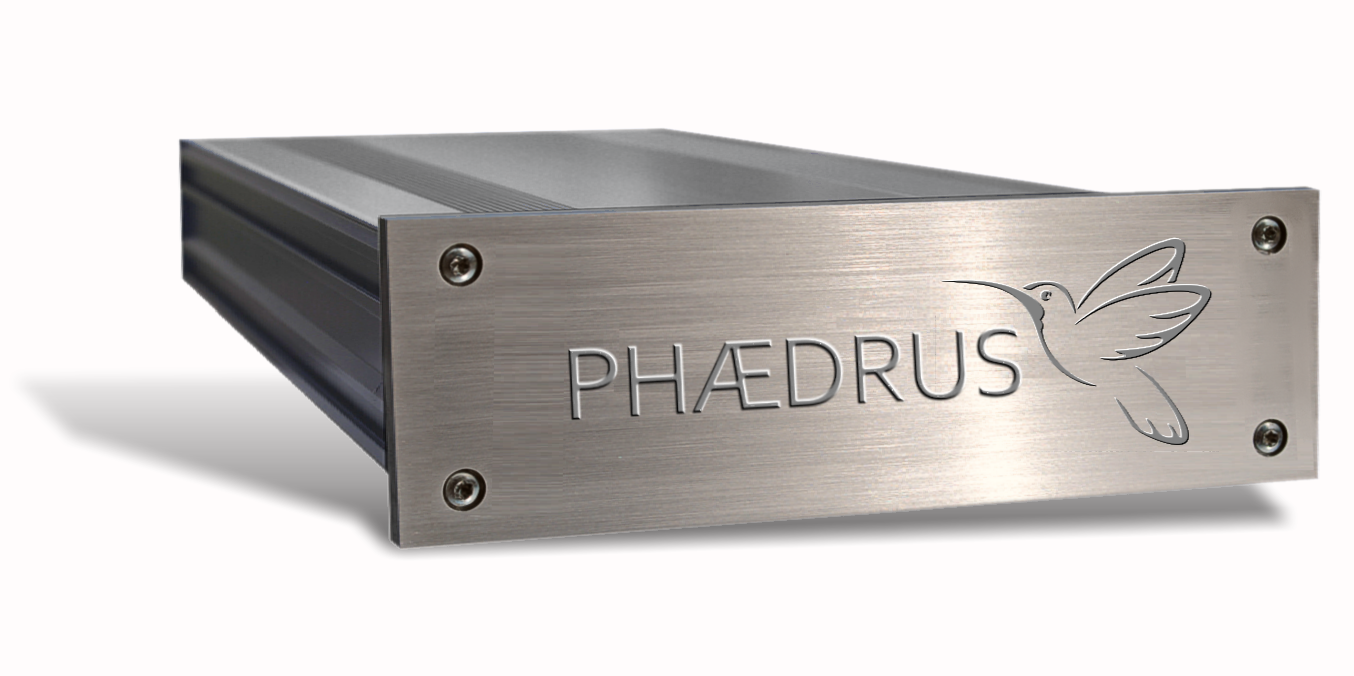 After two years of development, Phædrus Audio are very proud to introduce the Phædrus FLIGHT - our reference-quality, all-analogue phono preamplifier for real-time replay of records.
Building on circuitry pioneered in the ADAMANTINE and LOCKDOWN preamplifiers and Phædrus Audio's unique signal processing for LP replay and stereo enhancement, the Phædrus Audio FLIGHT is the ultimate phono preamplifier for collectors and audiophiles alike. An audio demo is available.
---
Pre-FLIGHT checklist
A checklist for the FLIGHT preamplifier.
The FLIGHT has a dedicated, high-quality, linear power supply.

Known as the Phædrus Audio PILOT, the power supply is in a separate matching enclosure. ✓

Options for two types of phono cartridge:

Phædrus Audio PHLUX-II/III active cartridge ✓¹
Moving coil cartridges (0VU = -64dBu). ✓

Balanced LINE-OUT on XLR connectors (level standard: 0VU = -10dBV at standard recording level).

or unbalanced output on RCA phono type connectors. ✓

Earth-free RCA inputs accommodate fully balanced cartridge connections.

As well as unbalanced connections.

EC8020-pH tube output stage - the best vacuum tube ever made. ✓

RHOPOINT 0.1% precision resistors are employed in critical signal processing roles. ✓

New RED DOT interstage transformers with ultra high purity copper coils are fitted.

To avoid capacitor coupling. ✓
Notes:
1. Moving magnet is available on request. We can even support Panasonic or Win Electronics strain-gauge cartridges.

---
Anatomy of a FLIGHT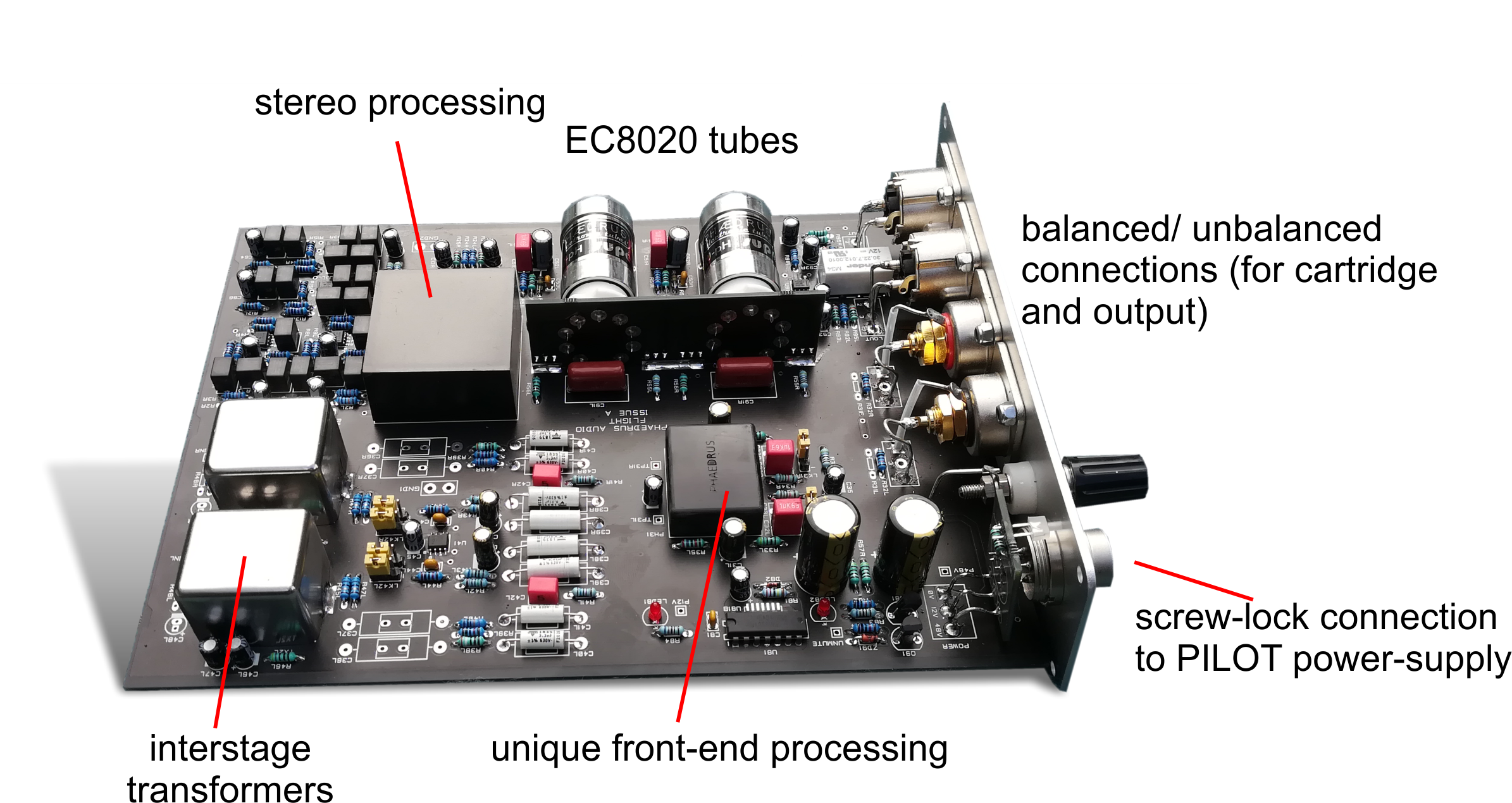 ---
The rear panel of the Phædrus Audio FLIGHT is illustrated below.

---
FLIGHT-Glide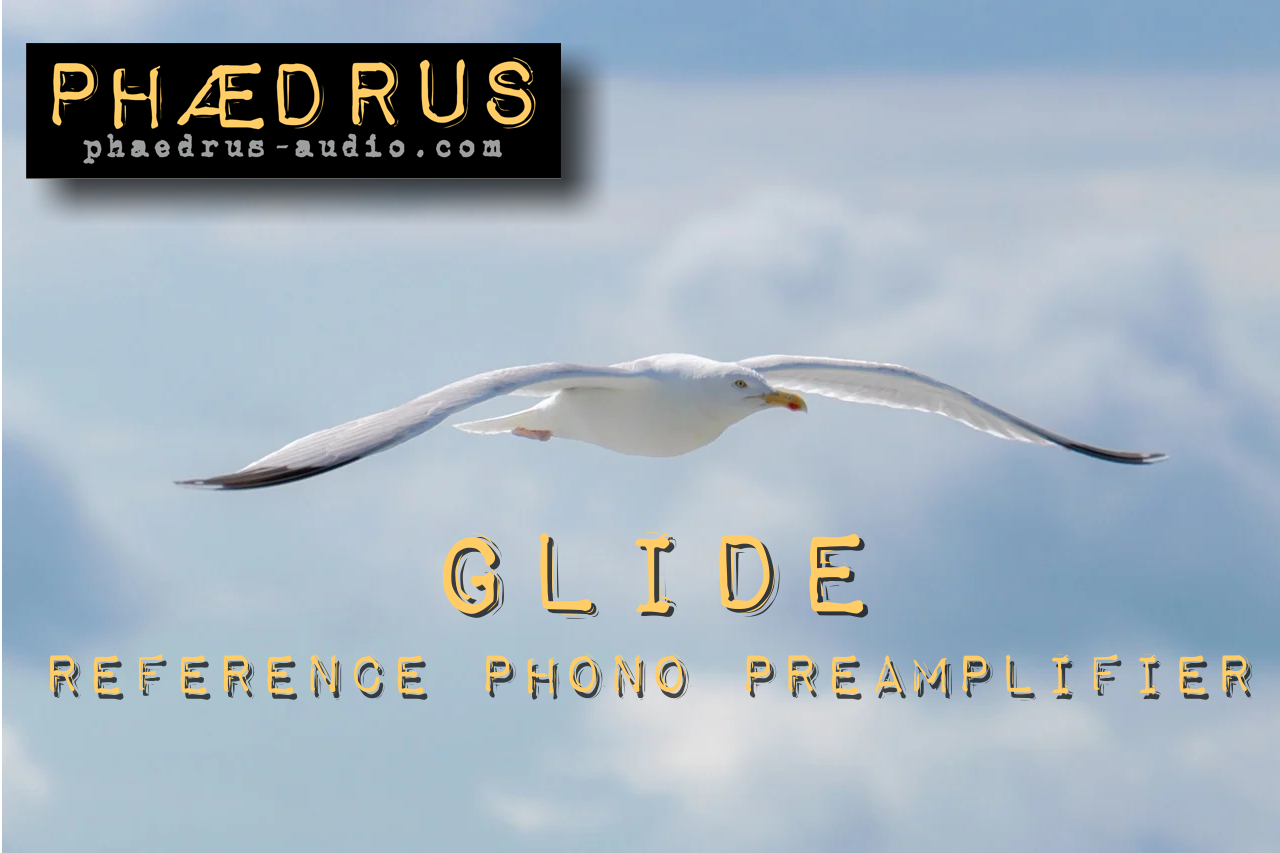 Because we want the maximum number of people to benefit from the real advanges in record replay via the Phædrus Audio FLIGHT signal handling, we have developed a value version of the FLIGHT.
Called the FLIGHT-Glide, this version of the preamplifier dispenses with the expensive EC8020 tubes and is offered with the PHLUX-III-Folio-SH cartridge, or with moving-coil input.
---
PHLUX-III Active cartridges
As the perfect partner to the Phædrus Audio FLIGHT we are introducing the PHLUX-III active cartridge.
With a hand made American black ash wooden body with rock maple inlay and a brass staging plate, designed and made by a recognised luthier, the PHLUX-III incorporates new amplifier technology with a bandwidth from DC to 2MHz.
The stylus is a nude, square-shank, Shibata type.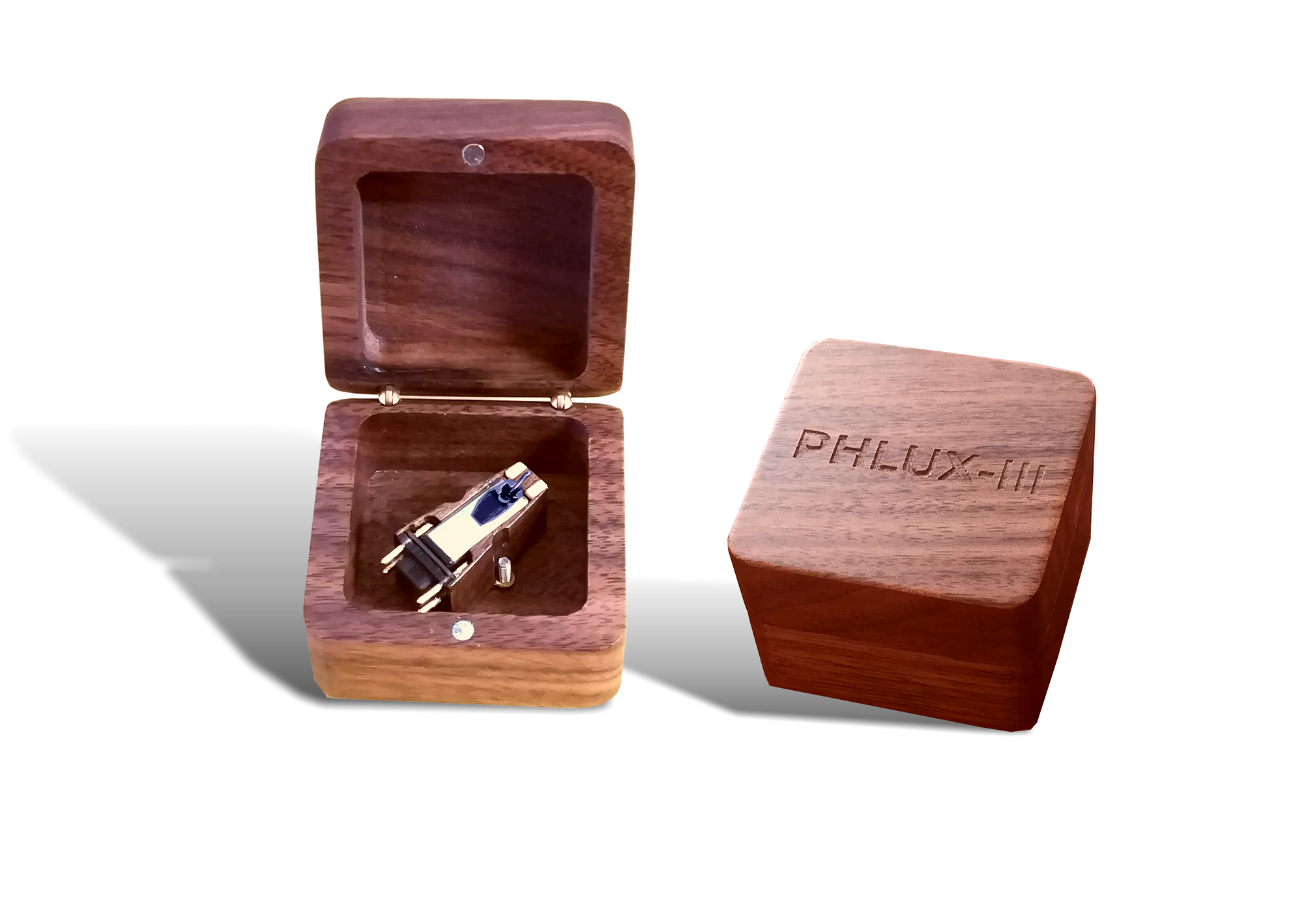 The PHLUX-III manual is available.
---
Appendix 1 - Specifications
FLIGHT Preamplifier
Type: Phono preamplifier for: Phædrus Audio PHLUX active cartridges; or moving coil types in transconductance mode.
Size: Two boxes: 220mm × 170mm × 55mm (L × W × H).
Phono cartridge input load: Active or ≅100Ω (MC).
Input level: Active, or 500µV at 5cm/s velocity at 1kHz
Transfer function: Overall - RIAA 3180µs, 318µs, 75µs curve. Non-inverting on pin 2 or XLR.
Output level: 0VU (standard recording level) = -10dBV. Max output = +24dB re. 0VU (+15dBu).
XLR polarity convention: Pin 2 is "hot"¹
1. According to AES 14 standard for professional audio equipment — Application of connectors, part 1, XLR-type polarity and gender. In turn, based on IEC 60268-12 Sound System Equipment Part 12: Application of Connectors for Broadcast and Similar Use, International Electrotechnical Commission, Geneva, Switzerland.
Phædrus Audio reserves the right to change specifications without notice.
---
Audio demo
Here a rival, high-quality RIAA preamplifier and cartridge and the Phædrus Audio FLIGHT and PHLUX-III may be A/B compared. Some browsers may not parse this, so the two audio files are available as separate examples below. (The audio is not precisely synchronous as they represent two, separate needle-drops.)
The FLIGHT is optimised for loudspeaker listening: there is less effect on headphones, so try to listen to these demos on loudspeakers. Press [Play] to start (and [Stop] to stop). Click on the buttons [Other preamp] and [FLIGHT] to switch between the two. Or drag the horizontal fader.
Other preamp FLIGHT
Volume
Or, in a non A/B format: the first recording is made with a high-quality, competitive preamplifier with a good quality cartridge.
Here are the same examples using the FLIGHT with the PHLUX-III cartridge.
---
Links
Back to home page
Address all mail to sales@phaedrus-audio.com
---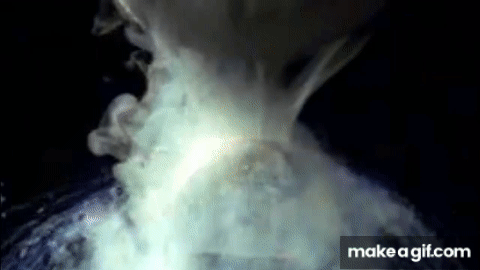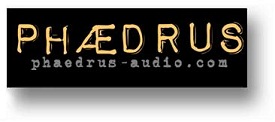 Maidstone . Kent . UK .

---
© Phædrus Audio 2023. All rights reserved.