---
Phædrus Audio
Phono preamplifiers
Phædrus Audio produces various phono preamplifiers:
---
The Groove Sleuth Mk. II
Phædrus Audio's Groove Sleuth phono preamplifiers were developed in conjuction with Pspatial Audio's Stereo Lab software.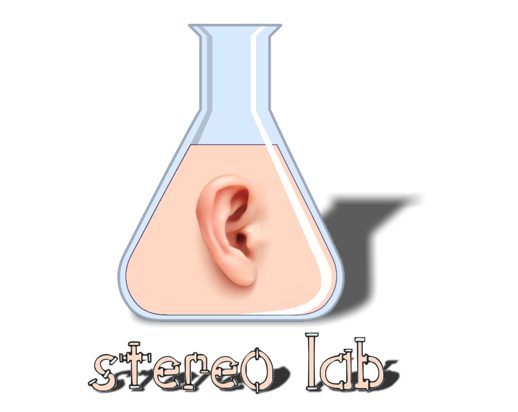 For the vinyl enthusiast, Stereo Lab offers a suite of tools for capturing the highest quality needle-drops from both modern, LP records and historic disc recordings.
Laboratory quality solution....
RIAA equalisation is performed within Stereo Lab with digital accuracy. Optional rumble-filtering is implemented with a phase-linear filter; something impossible in the analogue domain.
In addition, Stereo Lab includes: distortion cancellation algorithms (which compensate for the way the stylus tracks the physical groove) and cartridge-compensation algorithms to compensate for the shortcomings of practical phono cartridges.
Stereo Lab also support half-speed needle-drops and thereby offers the ability to extract the maximum information possible from a record. Also included is a unique, world-class "click and pop" filter to reduce the perceptible effects of surface damage.
These techniques delivers a performance from disc replay which needs to be heard to be believed.
It was ...... more specific across the mid-band. clean in treble.....
   It wasn't the LP as I know it. Noel Keywood (review of Stereo Lab)
For the record collector...
For the record collector and sound archivist, Stereo Lab also includes a Historic Equalisation mode which implements a comprehensive collection of gramophone-record equalisation curves; enabling the correct de-emphasis of 33, 45 and 78 RPM recordings made from 1880 to today!
Stereo Lab also includes a unique de-crackle process intended for this problem with 78 records. The technique is automatically adaptive and very effective. It is a unique process developed by Pspatial Audio and, unlike so many other, competitive techniques, the crackle-reduction has no effect on the high-frequencies so that the sound is not "dulled" when it is cleaned-up.
Upgrading to the Audiophile version of Stereo Lab enables support for older, encoded surround-sound formats with Quadraphonic (SQ and QS) and Ambisonics decoding to a modern 5.1 system.
Exceptional performance
During development of the Stereo Lab software, Pspatial Audio searched for hardware solutions with irreproachable performance for recording non-equalised needle-drops. The resolution of 24-bit high-resolution recordings requires preamplifiers which guarantee extremely low-noise, exemplary headroom, excellent linearity, and an accurate and extended frequency-response.
Few exist! And, in fact, in the end, Pspatial Audio were forced to develop their own test equipment which they nicknamed, the Groove Sleuth.
Phædrus Audio retained this name in this attractive commercial realisation of Pspatial Audio's original laboratory test-set.
---
Here is a video which explains how a combination of Phædrus Audio hardware and Stereo Lab software is used to acquire the highest quality needle-drop recordings.
---
How Groove Sleuth preamplifiers differ from other phono amplifiers
The signal from a gramophone pickup is too small to apply to the line input of most sound-cards or audio interfaces. What is required is a dedicated phono preamplifier to bring the small signal from the cartridge up to a healthy level for input to the computer sound-card.
Many phono preamplifiers exist at all price levels from a host of manufacturers. But, the vast majority of the phono preamplifiers apply RIAA equalisation in the hardware of the unit and that is not what is required here. We need a preamplifier which provides gain and impedance conversion, without applying the equalisation.
These are unfortunately very rare, especially models which guarantee extremely low-noise, exemplary headroom, excellent linearity, and an accurate and extended frequency-response. It is to fill this need that the Groove Sleuth preamplifiers were developed.
Fantastic sound! The clarity and openness of the music is just amazing. It also feels very robust and displays a wonderful build quality. Many thanks for the unit and the new lease it gives my and my client's records.
                      Gert Taeymans
iLOOP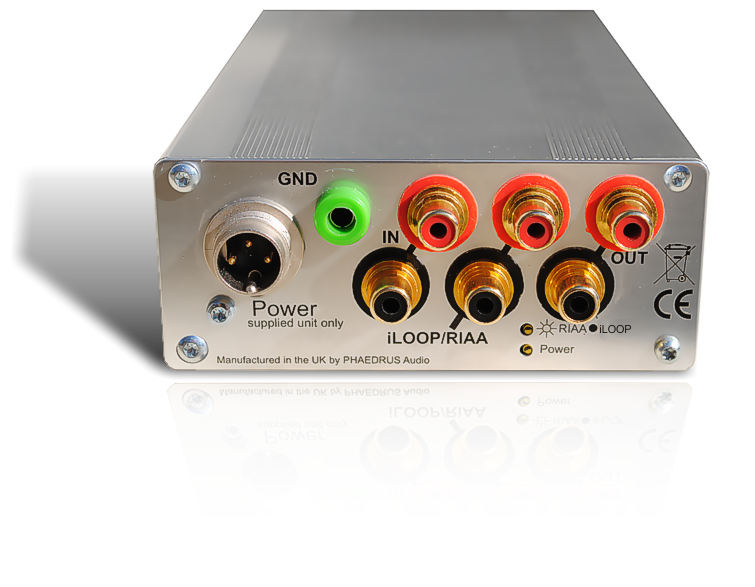 The Groove Sleuth Mk.II preamplifier features the iLOOP; a wide-bandwidth, low-noise and distortion buffered loop-through. This is especially convenient for enthusiasts who already have an excellent LP replay solution but who want to introduce computer audio into their system. This is because the Groove Sleuth Mk.II integrates transparently into a pre-existing setup and provides new functionality without upsetting what's there already.
iLOOP always outputs the phono signal at high-output HMC (or MM) signal levels. In fact, if moving-coil cartridge transformers are fitted and the iLOOP output is fed to a moving-magnet input, the Groove Sleuth will function as a first-rate, wide-bandwidth, low-noise MC preamplifier.

The Groove Sleuth Mk. II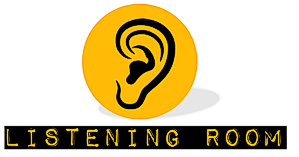 Key features
Class-A, rail-to-rail circuitry throughout
Battery supply (for total mains-bourne noise isolation)
Mu-metal screened transformers (MC option)
PHLUX-II cartridge support
Optional equalisation: RIAA, early LP & 78RPM
Frequency response: ±0.1dB from 20Hz to 50kHz (-3dB 2Hz, 300kHz)
Distortion: 0.005% THD at maximum output level
Equivalent input noise (EIN): (-124dBu), A-weighted. Input shorted
Dynamic range: 103dB
The Groove Sleuth Mk.II is a second generation product which replaces all the models in the original Groove Sleuth range.
The Groove Sleuth Mk.II incorporates the very low-noise battery supply which was previously only in the Groove Sleuth MINI. This means the preamplifier can be powered from a conventional, international-style power supply but be switched to battery supply during needle-drops to ensure the very best possible noise and aliasing performance. This delivers first-rate quality at a very reasonable price. A switch on the front-panel allows the battery supply to be selected and a LED indicates battery health and charge.
The Groove Sleuth Mk.II has well over 24 hours operational charge, but we recommend battery play be limited to approximately 12 hours. The unit may be kept in charge mode when listening with only a minute loss of quality.
The internals of the Groove Sleuth preamplifier
Monitoring EQ
New in the Groove Sleuth Mk.II is selectable equalisation option called RIAA+. Previously, we have only offered optional RIAA equalisation for monitoring. However, because Pspatial Audio's Stereo Lab software has its greatest application in equalising the many recording characteristics of historical recordings, it was felt helpful to incorporate limited, variable equalisation in the hardware preamplifier to make record monitoring less fatiguing (it's hard work listening to a 78RPM equalised with the RIAA curve!) Three carefully judged generalised settings are included: RIAA, LP (for late 78s and early LPs); and 78 (which is for all records made up until the late 1940s). In this way record monitoring may always be comfortable and accurate. When the RIAA+ option is fitted, it replaces iLOOP.
The Groove Sleuth Mk. II supports all moving-magnet cartridges and has a time-of-order option to install very high quality mu-metal screened transformers to support moving-coil types. These transformers are used in a unique circuit configuration in which the cartridge is terminated via a tertiary-winding which ensures extremely wide bandwidth and low distortion. The preamplifier supports the Phædrus Audio PHLUX active moving-magnet cartridge; another Phædrus Audio innovation and our recommended configuration.
Groove Sleuth preamplifier manual
The Groove Sleuth preamplifier manual is here.
To order your Groove Sleuth, or for more information, email: sales@phaedrus-audio.com.
---
Phædrus Audio PHATHOM
The Phædrus Audio PHATHOM preamplifier is our top-end, displacement-cartridge phono preamp. Sold with DisC cartridge, the PHATHOM preamplifier is also supplied with the Resolve PSU.
The PHATHOM offers exceptional performance from a phono preamplifier because it is designed to partner the DisC displacement-sensitive cartridge and does not contain RIAA equalisation.
Because the DisC displacement-sensitive cartridge monitors the exact shape of the contours of the record groove and converts this modulation directly into an audio signal, equalisation isn't required (or only a small amount). The Phædrus Audio PHATHOM is therefore massively more transparent than any hardware RIAA equalising preamp can ever be.
Resolve PSU
Housed in an identical chassis to the preamplifier, the Resolve power supply is of the very highest quality and connects to the preamplifier unit via a high-quality cable with screw-lock connectors.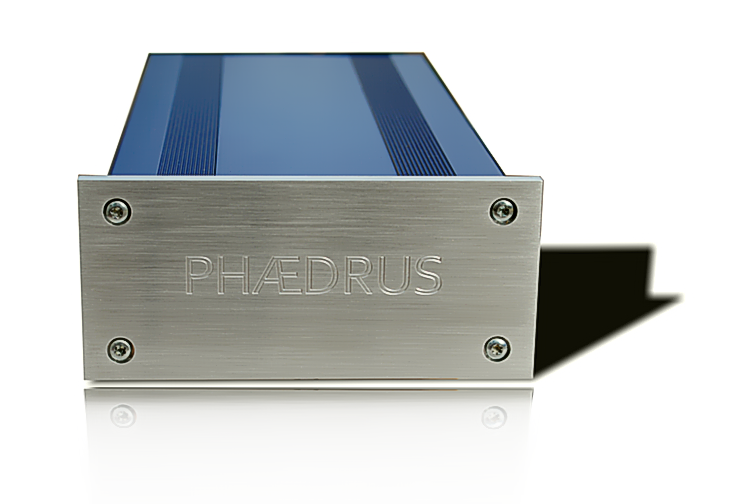 The PHATHOM preamplifier combined with the Resolve PSU are designed to be compatible with European Eco-Consumption directives. Consumption is less than 4 Watts in all configurations and active. The unit is intended to remain energised all the time. The design is thereby compatible with the best audio practice of leaving the unit energised all the time whilst respecting the environment, and your electricity bill!
To order your Phædrus Audio PHATHOM, or for more information, email: sales@phaedrus-audio.com.

---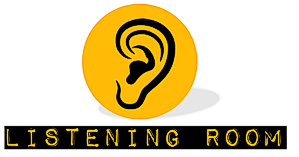 Links
Back to home page
Address all mail to sales@phaedrus-audio.com
---
Maidstone . Kent . UK .

---
© Phædrus Audio 2018. All rights reserved.